This is an archived article and the information in the article may be outdated. Please look at the time stamp on the story to see when it was last updated.
A female driver was taken into custody after being pursued by CHP on northbound freeways from Orange County onto surface streets in Pasadena on Wednesday afternoon.
The California Highway Patrol pursuit was on the 405 Freeway passing the 710 Freeway just after 12:30 p.m., and it then progressed to the northbound 110 Freeway past downtown L.A. and toward Pasadena.
A call came into CHP from a concerned citizen who witnessed a woman driving a vehicle erratically on the northbound 405 Freeway near the 55 Freeway, CHP Officer Juan Galvan said.
The vehicle was weaving in and out of lanes, and when authorities tried to stop the driver, she failed to yield, Galvan said.
The woman's vehicle appeared to be a dark-colored Mazda SUV, aerial video showed.
"She hasn't been speeding as we typically see in these pursuits," Galvan told KTLA. "She is driving at 35, 40 mph. Relatively slow in relation to other pursuits."
At least six CHP units were in pursuit, video from Sky5 showed.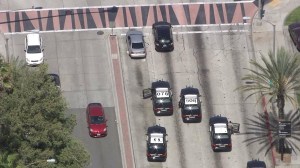 The vehicle exited the 110 Freeway at its terminus in Pasadena just after 1 p.m. and then stopped at an intersection.
Several CHP units stopped behind her at traffic lights multiple times, and then the SUV took off again northbound each time.
A CHP unit eventually executed a PIT maneuver on the driver, who stopped on Arroyo Parkway near Colorado Boulevard. She was taken into custody without incident about 1:15 p.m., after an officer showed her how to put her hands on her head.
KTLA's Jennifer Thang contributed to this article.