This is an archived article and the information in the article may be outdated. Please look at the time stamp on the story to see when it was last updated.
The California Highway Patrol on Monday released new information about a small plane crash that occurred on the 405 Freeway in Irvine last week.
The twin-engine Cessna 310 had just taken off from John Wayne Airport in Santa Ana when it lost power about 9:35 a.m. Friday.
The pilot, Francis Pisano, 62, of Coto de Caza, tried to return to the airport along the highway, but the tail crashed into the center divider, igniting a fire, the CHP reported.
Pisano frantically radioed a distress call before the crash, audio released the day of the crash showed.
"We got a mayday! We got a mayday!" he said.
His wife, Jana Pisano, 55, was a passenger in the plane.
The fiery aircraft continued west and hit a vehicle on the highway driven by John Meffert, 47, of Rancho Santa Margarita.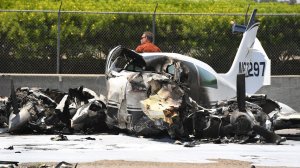 The plane then traveled across lanes and crashed into a Toyota driven by Blackstone Hamil, 51, of Thousand Oaks.
Two other vehicles on each side of the highway crashed into debris from the plane crash.
Several motorists stopped to help the victims in the plane, who were eventually taken to Orange County Global Medical Center with major injuries. As of Sunday, the Pisanos were in stable condition.
None of the other people who crashed suffered injuries.
The southbound side of the highway was closed for hours in the aftermath of the crash.
The incident remains under investigation.