This is an archived article and the information in the article may be outdated. Please look at the time stamp on the story to see when it was last updated.
CHP planned to release images Wednesday of a Fontana man who allegedly shot a CHP officer during a traffic enforcement stop, and then led authorities on a lengthy pursuit.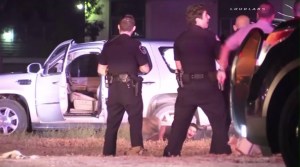 John Alfred Garcia, 30, was charged Tuesday with attempted murder of a peace officer, assault on a peace officer with a semiautomatic firearm, and fleeing a pursuing peace officer's motor vehicle while driving recklessly.
He was arrested early Sept. 11 after allegedly firing on CHP Officer Felix Serpas in West Covina, then being chased by police for about an hour. His vehicle became disabled in a field in Fontana, where he was subdued by a K-9 officer and police.
Garcia's Cadillac Escalade was stopped for an impaired driving investigation, the California Highway Patrol said in announcing the agency's plans to release more details Wednesday.
"During the enforcement stop, a combat shooting occurred between the driver and the CHP officer," the announcement stated.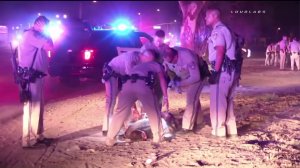 The SUV had a sticker for the ride-sharing service Uber in its window, a CHP spokesman said on the day of the shooting. Multiple weapons were found inside the Escalade, the spokesman said.
Both Garcia and the officer had gunshot wounds, and both were hospitalized. An update on the officer was expected at Wednesday's CHP news conference in Glendale, where images of Garcia during the incident were set to be released.
Serpas had last been reported to be stable.
Garcia was expected to be arraigned in court in West Covina Wednesday, the Los Angeles County District Attorney's Office said.
Prosecutors planned to ask that his bail be set at $2.075 million.
If convicted as charged, Garcia face up to 40 years to life in state prison.
Both Garcia and Serpas were identified by the DA's office Tuesday.