This is an archived article and the information in the article may be outdated. Please look at the time stamp on the story to see when it was last updated.
At a probation status hearing in Los Angeles on Wednesday, a judge ordered singer Chris Brown to 90 days of treatment, among other measures, following a brief stint in rehab that came after his arrest in October on an assault charge in Washington, D.C.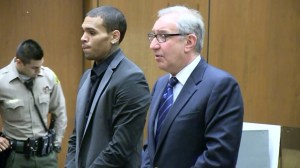 The Grammy Award winner's previously scheduled hearing in a downtown Los Angeles courtroom stems from the February 2009 assault of Rihanna, Brown's former girlfriend.
At the Wednesday hearing, Brown was ordered to 90 days at a treatment program that must be approved by the court. He was told to submit to random drug testing and take doctor-prescribed medication.
The judge also ordered Brown to serve 24 hours of community service per week, and the singer was told not to leave Los Angeles County except for outside court proceedings.
On Oct. 27 in Washington, Brown was allegedly involved in an altercation outside his tour bus that left one man with a broken nose. Brown and his bodyguard were arrested in the incident, and the singer was charged with felony assault, which was later reduced to a misdemeanor.
If Brown is convicted in the D.C. case, he could be found to be in violation of his probation and face up to four years in prison. He was sentenced to the probation after pleading guilty to a felony domestic violence charge in the 2009 incident.
As part of the terms of his probation, he was ordered to perform 1,400 hours of community service. However, a judge determined that Brown had not fulfilled the work and mandated that the singer fulfill an additional 1,000 hours of service.
Brown is currently undergoing rehab treatment as an outpatient after spending just over two weeks as an inpatient at a facility in Malibu, a representative told the Los Angeles Times.
His next probation court hearing was set for Dec. 16.
KTLA's Steve Kuzj contributed to this report.