This is an archived article and the information in the article may be outdated. Please look at the time stamp on the story to see when it was last updated.
Christmas is still two more than two months away, but The Grove appears to getting into the holiday spirit early as its famed Christmas tree arrived at the shopping center in the Fairfax District of Los Angeles Thursday morning, Sky5 aerial footage showed.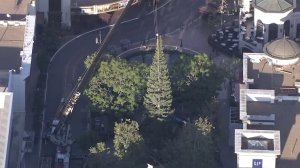 The Grove's tree usually stands around 100-feet high, making it annually one of the tallest in the country, the L.A. Times reported back in 2013.
"I think the trees are big enough," developer Rick Caruso told the Times. "It just feels right and feels like the holidays."
Also on Thursday, The Grove released information about it's annual tree lighting ceremony, which will take place this year on Sunday, Nov. 13.
Once again, Seth MacFarlane will host the highly anticipated hourlong holiday event, according to a news release from The Grove.
The program will feature MacFarlane singing renditions of classic Christmas songs, Santa Claus' arrival, the season's first "snowfall," and the lighting of the tree, which will all be followed by a fireworks finale, the release stated.
The pre-show will kickoff at 7 p.m., with the main event beginning at 7:30 p.m.