This is an archived article and the information in the article may be outdated. Please look at the time stamp on the story to see when it was last updated.
A Christmas tree may have played a role in a fire Tuesday night that killed two young boys and left a man in critical condition in the Green Meadows neighborhood of South Los Angeles, police said.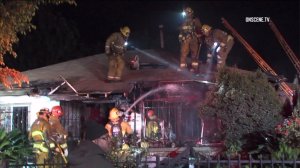 The fire broke out about 9 p.m. and quickly engulfed the home in the 800 block of East 113th Street, , according to the Los Angeles Fire Department.
Firefighters had to fight through security doors and window bars to get into the home, where they rescued two boys and a man believed to be their father.
Neighbors said the father had gone back into the home to try and rescue the boys after the fire started.
The boys, initially said to be 3-year-old twin boys but later described as 2 year olds by police, were taken to a local hospital in grave condition.
The boys were later pronounced dead at the hospital, family members told KTLA.
Family members at the scene said identified the boys as Brenton and Braeson Fortson, but they have not been formally identified by authorities. Family members said the boys had just celebrated their second birthday earlier this month.
The man was hospitalized in critical condition. Family members told KTLA the father was released from the hospital later that night.
Neighbors  had also made attempts to get to the children before firefighters arrived, but were unsuccessful.
"It was just too much heat and the smoke was just really unbearable," said neighbor Ronny D., who called to the kids from outside one of the home's windows.
"I'm calling for the kids … 'Where are you, where are you?' And I wasn't getting any response," he said.
Video posted to Facebook showed smoke billowing from the window as neighbors tried to pull the bars away.
Eventually, a voice can be heard saying that rescuers had reached one of the kids. Crews then reached the second child and the man.
A 4-year-old girl and an adult woman who were also at the home at the time were expected to be OK.
The home did not have working smoke alarms, according to investigators.
The cause of the fire was under investigation, but a police officer at the scene said a Christmas tree may have played a role.
Warning: The Facebook video below contains graphic language