This is an archived article and the information in the article may be outdated. Please look at the time stamp on the story to see when it was last updated.
BIG BEAR — To track Christopher Dorner, police from dozens of agencies chased tips across multiple states and into Mexico. But it appears now that he found a hiding place where searchers were thickest.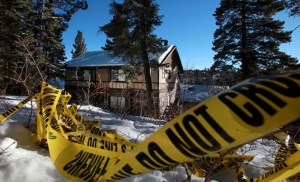 It is unclear how long Dorner, 33, was hunkered down in the cabin in the 1200 block of Club View Drive, in the snowy mountains near Big Bear.
But the cabin was so close to the manhunt command post and to an adjacent press area that countless police and reporters would have fallen in his line of vision.
Questions abounded Wednesday about how Dorner managed to evade capture at the very center of the manhunt, a day after he apparently died in another cabin nearby during a police siege.
Authorities are trying to confirm whether charred remains found in the cabin, which caught fire after police lobbed incendiary tear gas inside, belonged to Dorner.
Authorities declared the manhunt over Wednesday. And the Los Angeles Police Department, which had been on frequent tactical alerts, has resumed normal operations.
Most of the protective details have been called off the 50 or so families who were threatened in an online manifesto police say Dorner wrote.
Dorner, an ex-LAPD officer embittered by his firing, killed the daughter of a retired LAPD captain, her fiance and two law officers during a nine-day rampage that began in Irvine, police say.
On Feb. 7, authorities found the smoking wreckage of Dorner's Nissan Titan in the Big Bear area, triggering a massive search.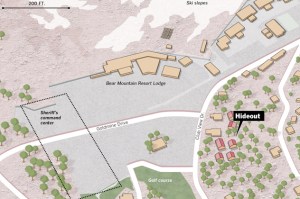 Could Dorner, who reportedly bragged about his military and survivalist skills, survive on the cold mountain?
Could he have staged the burning truck as a diversion, and already be hundreds of miles away? Was he dead?
San Bernardino County Sheriff's Department officials said the search included more than 600 cabins over eight square miles in the Big Bear area, where many of the structures are empty vacation homes.
But Jeanne Kelly, who lives blocks from where Dorner was apparently holed up, said searchers never knocked on her door.
"I think if they searched every house, they probably would've found him," said Kelly, 61. "I hate to knock them."
Jim Rose lives half a mile from the command center, and said searchers never knocked on his door either. "One friend said 'OK, so much for the inspection,' " said Rose, 78.
At a news conference Wednesday afternoon, sheriff's officials defended the search.
They said deputies checked the general area extensively and said they did not identify signs of forced entry at that particular cabin.
Officials said the cabin was last rented Feb. 6, a day before Dorner's truck was found burning nearby.
Jack Gaston and his wife, Donna, said they are happy the search is over and hope life will return to normal on the mountain, where roads were closed and residents passed through multiple police checkpoints over the last week.
They said they were shocked that Dorner had still been in the area. "We figured he was five states away from here," Donna Gaston said.
The mayhem began Feb. 3, when Monica Quan, daughter of a retired LAPD captain, and her fiance, Keith Lawrence, were found shot to death in an Irvine parking garage.
Police soon found a Facebook manifesto believed to be Dorner's, which vowed "unconventional and asymmetrical warfare" against police and their families for what he called his unfair firing from the LAPD.
On Feb. 7, hours after apparently trying to steal a boat in Point Loma, Dorner opened fire on two Riverside officers, killing one of them, Michael Crain.
In Torrance, police mistakenly shot at two trucks wrongly believed to be Dorner's, hitting a 71-year-old woman in the back.
Then police found Dorner's burning pickup truck and converged en masse on the Big Bear area.
On Tuesday afternoon, Jim and Karen Reynolds entered their condominium on Club View Drive and found Dorner hiding inside.
They said Dorner tied them up, then stole their purple Nissan. Earlier reports had indicated that two housecleaners were the people who discovered Dorner in the condo.
California Department of Fish and Wildlife spokesman Andrew Hughan said game wardens spotted Dorner tailgating a school bus on Highway 38, apparently as protection against spike-strips police might deploy.
He said Dorner lost the wardens in the ensuing chase, then crashed into a snow berm.
Rick Heltebrake, a ranger at a local Boy Scout camp, said he was driving on Glass Road with his Dalmatian when he saw movement in the trees.
It was a man dressed in camouflage and a ballistics vest. He had an assault rifle. Heltebrake knew it was Dorner.
"He came at me with his gun leveled at my head," Heltebrake said. "
I stopped, put my truck in park, raised my hands, and he said, 'I don't want to hurt you, just get out, start walking up the road and take your dog.' I said, 'Can I get her leash?' He said 'No, just start walking.' "
The Fish and Wildlife spokesman said a warden, a former Marine, spotted Dorner and gave chase.
Dorner fired at the warden, blowing out the window of the warden's vehicle and narrowly missing his head.
The warden stopped his car, pointed his semiautomatic rifle and unloaded 20 rounds at the fleeing truck.
Authorities chased Dorner into a Seven Oaks Road cabin amid a massive gun battle. A San Bernardino County deputy was killed and another badly injured.
LAPD Lt. Andy Neiman said he was listening to radio traffic as it was happening.
"It was horrifying to listen to that firefight and hear those words 'Officer down,' " Neiman said. "It's the most gut-wrenching experience that you can have as a police officer."
Law enforcement officers lobbed conventional tear gas into the cabin, but when Dorner failed to emerge they used CS gas canisters, a more intense weapon known to start fires, and sent in a demolition vehicle.
The cabin caught fire and burned down.
San Bernardino County Sheriff John McMahon said deputies did not purposely burn down the cabin. He said they deployed the gas canister after they were left with no other options.
"I can tell you it was not on purpose," he said. "We did not intentionally burn down that cabin to get Mr. Dorner out."
McMahon praised the deputies involved in the standoff. "It was like a war zone, and our deputies continued to go in the area. … Our deputies are true heroes."
Regardless of Dorner's presumed death, Neiman, the LAPD lieutenant, said his agency would continue examining the handling of Dorner's disciplinary case at the LAPD, which Chief Charlie Beck had ordered.
Dorner complained that he had been fired unfairly.
In Riverside on Wednesday, police motorcycles led a lengthy procession toward a service for Crain, the slain Riverside officer.
Mary Ann Taylor, who lives down the street from the Grove Community Church where it took place, stood with her twin granddaughters and watched as police cars filed past with flashing lights.
"Put your hands over your hearts. Show some respect for them," Taylor told the girls, and added: "I think all of us feel the sadness of the last few days."
Big Bear Lake Mayor Jay Obernolte said he was relieved that the manhunt seemed to be over.
The area was "freed of the sense of being a community that is not safe because there is a cop killer hiding in our little mountain town."