This is an archived article and the information in the article may be outdated. Please look at the time stamp on the story to see when it was last updated.
CicLAvia made its 2015 debut Sunday with another first – a visit to the San Fernando Valley.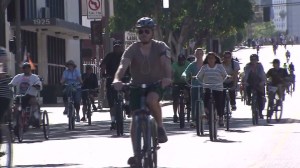 The event temporarily removes vehicles from the road in an effort to promote other means of transportation, such as bikes, skating and walking.
Sunday's event was scheduled to take place on Ventura and Lankershim boulevards, from Studio City to North Hollywood between 9 a.m. and 4 p.m.
The towing of vehicles parked along the route was expected to begin at 1 a.m. Sunday, the CicLAvia website warned.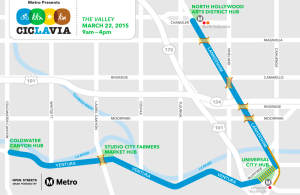 Streets closed to vehicles included:
Ventura Boulevard between Coldwater Canyon Avenue and Campo de Cahuenga
Campo de Cahuenga between Ventura Boulevard and Willowcrest Avenue (the Metro parking lot)
Lankershim Boulevard between Chandler Boulevard and the Los Angeles River near Chiquita Street
Lankershim was expected to remain open to two-way car traffic between the 101 Freeway on the south and the Cahuenga Boulevard/Los Angeles River fork on the north
Vehicles would be able to cross at multiple intersections, including:
Magnolia Boulevard, Vineland Avenue, Riverside Drive and Moorpark Street at Lankershim Boulevard
Laurel Canyon at Ventura Boulevard
The Metro's Universal City Red Line station was also expected to be closed to parked vehicles between 6 p.m. Saturday and 8 p.m. Sunday.
.@LAFD encourages #CicLAvia http://t.co/wAi2wJwAil attendees to be adventurous as they #BikeLA #WalkLA + @discoverla We're glad you're here!

— LAFD Talk (@LAFDtalk) March 22, 2015
Going to @CicLAvia? We're running longer subway trains to NoHo & Universal. Find out more + area bus detours: http://t.co/AaHXE6BhAt ^ST

— LA Metro (@metrolosangeles) March 22, 2015