This is an archived article and the information in the article may be outdated. Please look at the time stamp on the story to see when it was last updated.
Crews were working to put up a tree billed as the "world's largest live cut tree" at the Citadel Outlets on Monday morning, in a move that the shopping center said marked the beginning of the holiday season.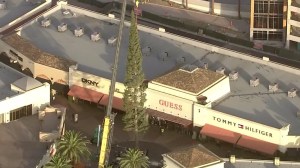 The 115-foot-tall white fir Christmas tree, which was driven down the 5 Freeway from the Shasta-Trinity National Forest, was scheduled to arrive at the center at about 6 a.m., a news release from Citadel Outlets stated.
The outlet stores are located at 100 Citadel Dr., in the city of Commerce, right off the 5 Freeway.
According to the release, the tree's arrival signaled "the start of the holiday season."
Shortly before 8 a.m., the unadorned tree appeared to be nearly in place, aerial video showed.
Six days earlier, the shopping center installed the world's largest bow atop one of its structures. The giant bow -- an annual fixture at the outlets -- is 36 feet wide by 21 feet tall, according to the release.
Both will remain up at the shopping center through the rest of the year.
A tree lighting concert was scheduled for Nov. 7, according the Citadel Outlets website. The 14th annual event will feature Laura Marano and Sabrina Carpenter, with Mario Lopez hosting the festivities.