This is an archived article and the information in the article may be outdated. Please look at the time stamp on the story to see when it was last updated.
Police arrested an online student from Citrus College Tuesday after he threatened to "shoot up" the school, prompting hours-long lockdowns at both the college campus in Glendora, as well as at nearby Azusa Pacific University, authorities said.
Terrell Lee Bennett, 30, of Chino, was found and taken into custody about 3:40 p.m., about four hours after he first called Glendora police "threatening that he as going to 'shoot up' Citrus College," Glendora Police Department Sgt. Shawna Celello said in a written statement.
Bennett is an online student at Citrus College who was scheduled to attend an in-person class on Tuesday, Celello said.
He allegedly called police about 11:20 a.m. and made the threat, which prompted Citrus College to go into lockdown.
Police quickly found Bennett's car in a campus parking lot, according to Celello. He, himself, was found and arrested on campus without a struggle about 3:40 p.m. No explosives or weapons were found in his vehicle.
"Suicide by cop appears to be a possible motive, based on Bennett's statements," Celello said. "Glendora police detectives are looking into Bennett's additional motives and the investigation is ongoing."
Citrus College officials issued a warning on social media as the situation unfolded Tuesday.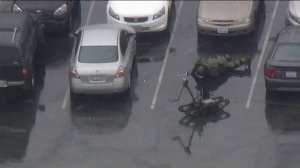 "If you are not on campus, stay away," the college said in a tweet. "Go to the nearest room, turn off lights, lock door, and remain quiet. Remain locked down until an All Clear has been issued."
Aerial footage from Sky5 showed a technician in a bomb suit, along with a bomb squad robot, looking in and beneath a car parked in one of the school's parking lots.
The technician ultimately used a long rope to open a rear door of the car before resuming the search on the interior. A long rope was also used to drag a backpack away from the car.
Police began releasing students and faculty from the school as they cleared each building, officials said. The lockdown was formally lifted about 6 p.m..
Another lockdown was ordered at Azusa Pacific University, 901 E. Alosta Ave. in neighboring  Azusa about an hour later.
"Please shelter-in-place. The campus is on lockdown," APU in a Tweet. "If you are on campus, please remain where you are. If off campus, please stay away from the area. Glendora PD is investigating a threat at Citrus College."
The campus received a phoned-in threat about 11:20 a.m., Glendora police Department Sgt. Shawna Celello said.
There were no reports of any suspicious activity on the campus, she said. The lockdown at APU was done at the school's discretion and was not ordered by police.
APU announced shortly after 3 p.m. that classes for the rest of the day had been cancelled. The lockdown was lifted about 4 p.m. after officials determined the campus was safe, but remained in effect for the east campus, according to college officials.
No further details were available.
The lockdown at APU was done as a precaution due to the threat against nearby Citrus College, school officials told the San Gabriel Valley Tribune.
Anyone with information regarding the incident is asked to contact Glendora police Sgt. Michael Henderson at 626-914-8281, or at mhenderson@glendorapd.org.
#LASD SEB Tactical Bomb Techs assisting our partners @Glendora_PD with a school threat at @CitrusCollege. The area is now safe. Public safety #teamwork. pic.twitter.com/XuzuELdopS

— SEB (@SEBLASD) January 16, 2019