This is an archived article and the information in the article may be outdated. Please look at the time stamp on the story to see when it was last updated.
Six people were displaced and a firefighter was hospitalized with minor injuries after a fire burned almost an entire city block in South Los Angeles Wednesday morning, according to Los Angeles County Fire Department officials.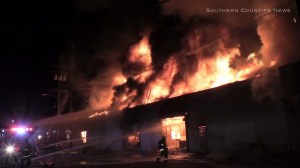 Firefighters began battling a blaze in the 5800 block of Hooper Avenue (map) around 1 a.m., a county fire official stated on Periscope.
The fire bordered in the Central-Alameda and unincorporated Florence-Firestone neighborhoods, and was under L.A. County fire's jurisdiction.
About 250 firefighters from the county, with aid from the Los Angeles Fire Department, battled the blaze for several hours Wednesday morning. They were expected to remain on scene throughout the day.
One firefighter was hospitalized with minor injuries, an official said on Periscope. Further details were not made available.
About 10 buildings, including two homes that were located in the back of businesses, were involved, county fire's David Dantic said.
Six residents were displaced from one home and the other was vacant.
Five of the buildings were destroyed, two were damaged and the two homes were saved, Dantic later told the Los Angeles Times.
People in the area were advised to minimize exposure to smoke by sheltering in place and keeping windows and doors closed.
The cause of the blaze was under investigation.
250 @lafd & @LACo_FD firefighters rushed last nite to save an industrial part of #SouthLA from greater harm #LAFD pic.twitter.com/tHo2KUr23r

— LAFD South (@LAFDsouth) October 7, 2015
#HooperFire 5800 BLK of Hooper #Florence Greater Alarm Fire approx 250 Firefighters with @LAFD 📷 by OnsceneTV pic.twitter.com/yGXEMTpBSl

— L.A. County Fire Department (@LACoFDPIO) October 7, 2015