This is an archived article and the information in the article may be outdated. Please look at the time stamp on the story to see when it was last updated.
Travelers leaving Los Angeles International Airport by car, van, bus, shuttle or taxi have no choice but to wait at the chaotic curbside, often for more than half an hour, as drivers fight through bumper-to-bumper traffic.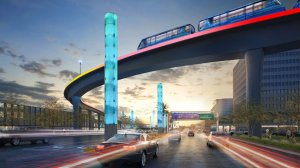 Within five years, the defining experience of traveling in and out of LAX could change, as the city moves forward on an ambitious and long-awaited transit project that will connect the airport to Los Angeles County's growing mass transit system.
As the audience at City Hall applauded, the Los Angeles City Council on Wednesday unanimously awarded a nearly $4.9-billion, 30-year contract to design, build, operate and maintain an elevated train system that will whisk passengers in and out of LAX's terminal areas, avoiding the congestion below.
The train is expected to begin service in March 2023, with construction slated to begin later this year. While highly anticipated, the sleek rail loop comes years — and in some cases, decades — after other major airports across the world funded similar improvements.
Read the full story on LATimes.com.