This is an archived article and the information in the article may be outdated. Please look at the time stamp on the story to see when it was last updated.
An outspoken critic of the Los Angeles City Council has been arrested after allegedly submitting a public-comment card that depicted a burning cross, a body dangling from a tree and an apparent Ku Klux Klan figure holding a sign labeling Council President Herb Wesson with a racially charged epithet.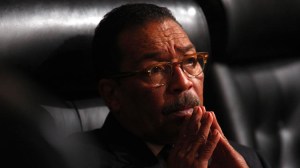 Wayne Spindler, an Encino-based attorney, was taken into custody Friday and booked on a felony count of making a criminal threat, said Officer Jane Kim of the Los Angeles Police Department.
Spindler, 46, was released after posting $75,000 bail and is scheduled to appear in court on June 10, according to online jail records. He did not return a message seeking comment.
Investigators with the LAPD's Threat Management Unit reviewed the comment card that was submitted during the May 11 meeting of the Rules, Elections, Intergovernmental Relations and Neighborhoods Committee, Kim confirmed. Wesson is chairman of the committee.
Click here to read the full story on LATimes.com.