This is an archived article and the information in the article may be outdated. Please look at the time stamp on the story to see when it was last updated.
A group that is seeking to reform sex-offender laws is suing the city of Orange over an ordinance that requires registered sex offenders to post signs on their front doors on Halloween to keep trick-or-treaters away.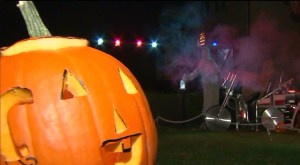 The signs, which are mandated by the city, read "no candy or treats at this residence," and must be no smaller than 12 inches by 24 inches.
The ordinance, passed in 2010, also bans sex offenders from putting out holiday decorations, leaving outdoor lights on, and answering the door for children on Oct. 31.
California Reform Sex Offender Laws, the advocacy group that filed the lawsuit, claims that the sign requirement is unconstitutional and violates the civil rights of sex offenders.
Orange city attorney Wayne Winthers told KTLA that debate around the issue will likely be addressed at an upcoming city council meeting.
According to CA RSOL, the signs jeopardize the safety of sex offenders and their families, putting them "at risk for physical and emotional harm," the organization said in a news release Wednesday.
"Often on Halloween people are up to mischief, whether it's egging a house, or shooting a gun through a window. And what better target — from some people's perspective — to do that to a sex offender? That's one of our real concerns," said Janice Bellucci, president of CA RSLO.
Across California, sex offenders have been targets of recent crime, Bellucci said.
On Aug. 12, an offender was shot and killed while standing outside of his home in Salinas. On Aug. 23, a San Juan Capistrano man was sentenced to life in jail for the 2011 vigilante murder of his sex-offender neighbor.
"Instead of protecting the residents of the city of Orange, this ordinance harms hundreds of citizens in that city … that have been convicted of a sex-related crime," said CA RSOL board member Frank Lindsay in the organization's news release.
In October 2012, CA RSLO challenged a similar Halloween ordinance in Simi Valley. In that case, a judge ruled against the sign requirement, saying sex offenders were "likely to suffer irreparable harm" if they posted signs on their doors.
"Although I don't necessarily agree that it's unconstitutional, there is a district court judge that basically found the same section unconstitutional in a Simi Valley ordinance. I'm not one to argue with the District Court Judge, so I'll have to go with his opinion at this time," said Winthers.
Orange County has a higher number of sex offender ordinances than most other counties in the state, Bellucci said.
The county has also come under scrutiny for it's "child safety zone" law, which was passed by the Board of Supervisors and banned sex offenders entering parks, beaches, playgrounds, hiking trails, harbors, and other recreational areas. Instituted in 2011, the law was overturned by a panel of Orange County judges in November 2012. The ruling has been appealed, and oral arguments are scheduled for next week, Bellucci said.
Orange is the only city in California that requires that sex offenders post signs on Halloween, according to CA RSOL.
Since the city's ordinance went into effect, no registered sex offenders have been cited in violation, the Los Angeles Times reported. Those who do break the law face a $1,000 fine and up to six months in jail.