This is an archived article and the information in the article may be outdated. Please look at the time stamp on the story to see when it was last updated.
On the lawn of a Claremont church, just like at many churches at this time of year, cutouts of wise men on camelback head toward a makeshift stable, a meager wooden structure where Mary and Joseph have huddled inside.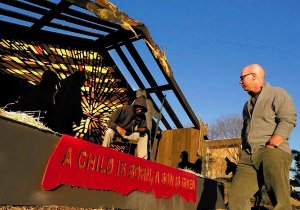 But instead of an infant Jesus cradled in his mother's arms, the Nativity at Claremont United Methodist Church — the creation of congregant and artist John Zachary — features a depiction of Trayvon Martin slumped over in his hoodie, a pool of his blood spreading over a bed of straw.
For several years, Zachary has brought his artistic interpretations of the Nativity — as well as the occasional controversy — to the church, as he used a scene that traditionally conveys themes of joy and innocence to spread messages of social justice. Over the last few years, his installations have touched on homelessness, poverty and acceptance of gay families.
He decided over the summer that this year's scene would include the Florida teenager whose shooting death captured the nation's attention. Zachary said he wanted to draw a parallel between rampant gun violence and the dark time in which Jesus was born.
Click here to read the full story on LATimes.com.