This is an archived article and the information in the article may be outdated. Please look at the time stamp on the story to see when it was last updated.
Classes were canceled after reports of shots fired led to possible evidence of a shooting on the Cal State University San Bernardino campus Wednesday evening.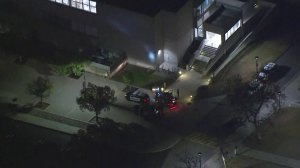 Calls came in around 6 p.m., and students, staff and visitors at the school were told to shelter in place while police went to investigate the possible shooting at the university, located at 5500 University Parkway in San Bernardino.
"Shelter in place. Don't try to leave campus," the university tweeted around 6 p.m.
A short time later, San Bernardino Police Department Lt. Mike Madden told KTLA there was no active shooter on campus, and that investigators were not even sure whether shots were fired. The outside of a building had a single strike, but it was unclear whether it a gunshot, he said.
The object, Madden added, could have come from the hillside above the campus.
Later, investigators did find evidence that a building's window had possibly been struck by a bullet. It was not immediately clear which one, but authorities were focused on the Visual Arts Building and Parking Structure West; earlier, the university had indicated that was the general area where the apparent shots had been heard.
No injuries have been reported, Madden said.
The shelter-in-place order remained in place for several hours as authorities went to each building to provide escorts out, according to the university. It was not immediately clear when all buildings would be cleared, or whether people could leave campus on their own.
University officials finally gave the all clear shortly before midnight, and everyone not residing on the campus was asked to leave as police continued to monitor the situation.
Classes are set to resume Thursday.
KTLA's Nidia Becerra contributed to this story. 
Reports of shots fired near Visual Arts Building and Parking Structure West. Shelter in Place. Don't try to leave campus. Updates to follow.

— CSUSB News (@CSUSBNews) January 11, 2018
All classes at the Cal State San Bernardino campus have been canceled tonight, Jan. 10. More information to follow.

— CSUSB News (@CSUSBNews) January 11, 2018
Do your best to stay calm, stay quiet to avoid attracting shooter(s) if infact there is one, block your doors and windows with desks/tables. Stay close to your classmates. We are actively searching to provide more updates. https://t.co/1fVstHqilL

— CSUSB News (@CSUSBNews) January 11, 2018
Although we have no confirmation that there is in fact a shooter or shooter(s) on campus a report was made. CSUSB will never take these things lightly & will immediately begin investigating/searching as a precaution. updates to come. https://t.co/3x6WaGdkSS

— CSUSB News (@CSUSBNews) January 11, 2018
All clear. Everyone not living on campus should immediately leave. PD will continue to monitor campus. Classes resume tomorrow, Jan. 11.

— CSUSB News (@CSUSBNews) January 11, 2018