This is an archived article and the information in the article may be outdated. Please look at the time stamp on the story to see when it was last updated.
Classes resumed at North Park Elementary School in San Bernardino Monday, one week after a gunman opened fire in a classroom, killing his estranged wife and one of her students.
New security measures began when school started at 8:50 a.m. after the school had been closed.
In response to the deadly incident, officials are beefing up security and no one will be allowed on the North H Street campus without undergoing a background check and fingerprinting.
Cedric Anderson was able to get into Karen Smith's classroom, where he fatally shot her and Jonathan Martinez, 8, who was nearby. Nolan Brandy, 9, was also injured in the shooting, but he has since been released from the hospital. Anderson then fatally shot himself.
In response to the incident, visitors will need to ring a buzzer to enter the school and will be restricted to the main office, said Maria Garcia, spokesperson for the San Bernardino City Unified School District. A camera will allow those in the office to see who is at the door.
Students in the class where the shooting occurred will have a new classroom.
Additional staff and counselors will be on hand Monday for the children returning to school.
The district encouraged employees to wear red Monday to honor the victims as well as support other students and staff.
Tyrone Edwards, whose son attends the school, said the boy is "not doing well at all."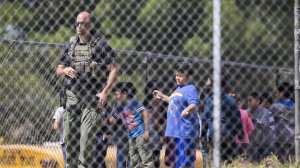 "When it comes something like this, it's hard for me as a parent to actually know what to do to actually help him," Edwards said. "These new security measures are great, but these new security measures need to be at all schools."
Parents returning to the campus Monday shared a range of emotions.
"We're relieved they're coming back to school here," Jane Muschell said of the students as she dropped off her son Jeremy. "We're happy, he's happy. He's excited."
Jeremy said he was happy to see his friends and teachers again.
Martrina Thompson admitted that she was a "little nervous" to bring her children back to school. She said she spent the morning debating whether or not she should take them.
"But they miss their friends. They miss their teachers," Thompson said.
Maria Rodriguez said she is hoping Monday is "a good day."
"My son was a little sad, a little scared, but they needed to come back today with everybody," Rodriguez said.
Her daughter, Alina, who is in fifth grade, said she is scared that another shooting would happen Monday.
"But it's not," her mother said.