This is an archived article and the information in the article may be outdated. Please look at the time stamp on the story to see when it was last updated.
The Azusa city council voted Monday night to ratify a proclamation of a local emergency which allows the city to apply for state and federal funds, Azusa Mayor Joseph Rocha told KTLA.
The city of Glendora also approved a similar proclamation at their council meeting Monday night, Rocha said.
The votes came as cleanup operations continued Monday in the rain-soaked cities, where some residents found their properties covered with mud and debris Sunday after mandatory evacuations were lifted.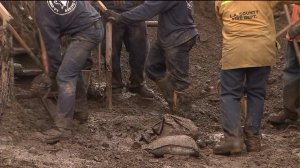 Of the approximately 1,000 homes that were threatened by mudslides in the area impacted by January's Colby Fire, Ed Heinlein's house in Azusa was the only one that was yellow-tagged by authorities. The designation meant that only cleanup operations were initially allowed at the property.
But he had plenty of help – neighbors, work crews, and even elected officials contributed to the effort to make the residence inhabitable once again.
"There's been about 150 people," Heinlein said. "And you can see – there's tractors, there's bulldozers, there's fire trucks. There are more people working here than I've seen in my entire life. Unbelievable miracle."
In light of the potential dangers posed by living in the foothills, he was asked if he ever considered moving away.
"Who would want to leave Azusa Canyon?" he replied. "You can't tell I live in L.A., because there's all these mountains around me. You would never know there's 10 million people out there. It's wonderful. It's a great city, great place.
"I've got 50 avocado trees up there, and my friends," he added, pointing toward his backyard. "We're not going anywhere. We're here."
The mandatory evacuation was rescinded for Ridge View Drive at 11:45 a.m. Sunday. Highway 39, which bisects Azusa, was also reopened. The city's police department urged drivers to "use caution when traveling on this road, as their may still be some lingering debris, mud or rocks."
Glendora's emergency protocol was lowered from red level to yellow level as of 6 a.m., for all properties north of Sierra Madre Avenue between North Yucca Ridge Road and Little Dalton Wash. "These areas have the highest risk of being impacted by flooding/debris flows from rainfall due to the loss of vegetation in the foothills," the Glendora Police Department said in a statement.
Rain-related parking restrictions remained in effect, and residents were directed to remove vehicles, trash bins and other obstructions from streets and travel lanes.
The evacuation orders had been in place since Thursday, after the first of two thunderstorms moved across the foothill region.
In nearby Monrovia, a similar order was downgraded to an advisory evacuation Saturday night.