This is an archived article and the information in the article may be outdated. Please look at the time stamp on the story to see when it was last updated.
An employee fatally shot one of two would-be robbers trying to rob a liquor store in Whittier Monday night, according to police.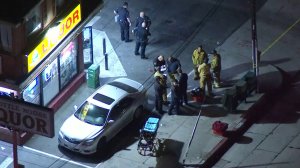 The incident occurred shortly after 10 p.m. at Bottle House Liquor in the 6000 block of Norwalk Boulevard, Whittier Police Department Sgt. Lawson said.
Two individuals were trying to rob the store when the employee, noticing at least one of them was armed with a handgun, produced his own handgun and a shooting occurred, the Whittier Police Department stated in a news release.
One of the suspects fled the scene but the other was fatally wounded.
Authorities have not released the identity of the dead suspect.
Police initially indicated three suspects entered the store, but later revised the number to two.
Authorities are still searching for the second suspect but have not released a description, and it was unclear if the person had been wounded by the gunfire.
Anyone with information was asked to call Detective Bolanos at 562-567-9281.
KTLA's Matt Phillips contributed to this story.