This is an archived article and the information in the article may be outdated. Please look at the time stamp on the story to see when it was last updated.
LOS ANGELES (KTLA) –After days of on-again-off-again negotiations, it appeared on Monday that the Clippers finally had their new head coach: Doc Rivers.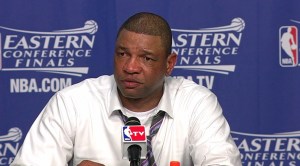 The Clippers and the Celtics have reportedly reached an agreement in principal to bring Coach Glenn "Doc" Rivers to Los Angeles.
In return for the rights to Rivers, the Clippers will send the Celtics a first-round pick in 2015, the Los Angeles Times reported.
The Clippers will also take over the remaining three years and $21 million on Rivers' five-year contract with Boston.
Details of the deal were confirmed for the Times by NBA executives who spoke anonymously because they weren't authorized to discuss the situation.
The deal will not be official until the NBA approves it. That was expected to happen on Monday.
Rivers' $7 million annual salary is by far the largest that Clippers' owner Donald Sterling has ever paid a coach.
Clippers star Chris Paul reportedly wanted Rivers as the team's coach.
The deal with Rivers makes it likely that Paul, who becomes an unrestricted free agent on July 1, will re-sign with the team, analysts said.