This is an archived article and the information in the article may be outdated. Please look at the time stamp on the story to see when it was last updated.
A Long Beach homicide sergeant on Monday repeatedly urged witnesses to come forward in the fatal walk-up shooting of a 4-year-old girl and her mother, saying few people had contacted police in the day and a half since the crime.
"We need answers," said cousin Araceli Meza. "It's horrible. Nobody deserves to go through what we're going through."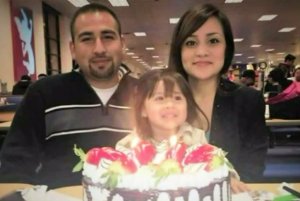 Only three calls have come in to detectives in the 10:20 p.m. Saturday shooting of Carina Mancera and her daughter, Jennabel Anaya, according to Long Beach Police Department Sgt. Robert Woods.
"I was a little disheartened by that. I thought we would just have influx of information coming from the public, and we haven't had it yet," Woods said midday Monday.
He called the shooting "very brutal."
The killer approached the victims near East Ninth Street and Locust Avenue as they were returning home from a grocery shopping trip, shooting the 26-year-old mother and daughter at close range. He then fired at Luis Anaya, the 27-year-old longtime boyfriend of Mancera and the little girl's father, Woods said.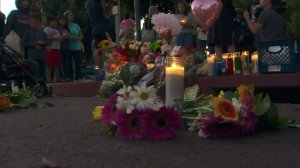 Anaya, who was not injured, told the Los Angeles Times that he briefly locked eyes with the gunman, but couldn't recognize him. The shooter's face was covered up, he said.
Mancera died at the scene, her daughter at a hospital.
A witness told the Times that Anaya called the little's girl grandmother, who tried to comfort the child by talking to her on the phone.
Balloons, candles and flowers were left along the sidewalk where the shooting occurred, with the memorial still growing Monday. A vigil was held the previous night.
"They were two very nice persons that wouldn't mess with anybody. It's really sad and hard, especially when you know the family," said a woman whose 7-year-old daughter distraught over the loss of Jennabel, her friend.
The 7-year-old, whose mother did not want herself or her daughter to be identified, cried as she recounted her playmate sharing cupcakes with her.
Friends say the family had no known enemies. And Woods said there was "zero" indication of any gang connections.
"Our victim is a true victim. ... It is a whodunit," Woods said. "This one baffles me. I've been doing it for a little while, and it baffles me."
A neighbor told the Times violence is a rarity in the neighborhood, not far from downtown Long Beach, and Woods said he hadn't recently investigated any homicides in the vicinity.
A team of detectives came in on Sunday and were working Monday to review just-received surveillance video, Woods said. He wouldn't say what the video showed, but insisted it is "not going to solve our case."
Suggestions that a car was involved have not been substantiated by evidence thus far, Woods said.
Woods pleaded for tips, saying those who want to be anonymous may remain so.
"At no time do we ever want to have a 4-year-old, or her mother, the 26-year-old, gunned down for no apparent reason at all," Woods said. "It brings us great concern. We're doing everything we can to solve it."
Anyone with information is asked to call homicide Detectives Scott Lasch and Michael Hubbard at 562-570-7244. Anonymous tipsters can call 800-222-8477, text "TIPLA" plus the tip to 274637, or go to lacrimestoppers.org.
A GoFundMe page for the family had raised more than $22,000 as of late Monday night.
Please call if u have info re: shooting death of Carina Mancera & daughter Jennabel Anayahttps://t.co/WHMvAvZO2d pic.twitter.com/JG8Ix6Me2M

— Long Beach PD (CA) (@LBPD) August 8, 2016