This is an archived article and the information in the article may be outdated. Please look at the time stamp on the story to see when it was last updated.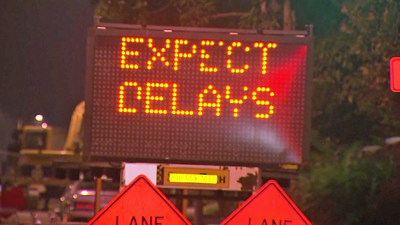 WESTWOOD, Calif. (KTLA) — Starting on Monday, drivers who travel through the Sepulveda Pass will have to deal with extra traffic and delays.
It's all part of the same $1 billion 405 Freeway widening project that prompted the two 'Carmageddon' closures of the freeway.
The closures begin at 9 a.m. Monday and will last for seven days.
That stretch of Sepulveda will be reduced to one lane in each direction during the day, and will be completely closed between 9 p.m. and 6 a.m.
Road crews will be working to smooth out the grade difference between the new roadway and the old one.
The new Sepulveda Boulevard alignment slices through a hill east of the freeway, where a large retaining wall has been built.
Moving Sepulveda to the east and changing its grade will allow for a new carpool lane and auxiliary exit lanes on the northbound 405.
Once Sepulveda is relocated, workers will build the new northbound lanes, Metro officials said.
For more info check out: http://thesource.metro.net.