This is an archived article and the information in the article may be outdated. Please look at the time stamp on the story to see when it was last updated.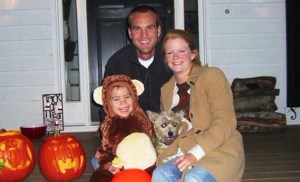 PORT HUENEME (KTLA) — A member of the U.S. Coast Guard was killed in the line of duty when suspected drug smugglers rammed his vessel near Santa Cruz Island.
Chief Petty Officer Terrell Horne III, 34, of Redondo Beach was second in command of the Halibut, an 87-foot patrol cutter based in Marina del Rey.
Early Sunday morning, the Halibut was dispatched to investigate a boat operating near Santa Cruz Island, which is the largest of the Channel Islands.
The boat, a "panga"-style vessel commonly used by smugglers, was first detected by a patrol plane.
It had fallen under suspicion becasue it was operating at night without any lights.
The Coast Guard cutter contains a smaller boat — a rigid-hull inflatable used routinely for search-and-rescue operations and missions that require a nimble approach.
When Horne and his team approached in the inflatable, the suspect boat gunned its engine, maneuvered directly toward the Coast Guard inflatable, rammed it and fled.
The impact knocked Horne and another Coast Guardsman into the water.
Both were rescued, but Horne suffered a massive head injury. Paramedics met the Halibut at the Port Hueneme pier at declared him dead at 2:21 a.m.
"Chief Petty Officer Horne was an outstanding Coast Guard member," said Coast Guard Capt. James Jenkins.
"He gave his life in service, enforcing the laws of this nation. Our hearts go out to the family and loved ones of Chief Petty Officer Horne," Jenkins continued.
"All of the members of team Coast Guard grieve along with them, and are so very sorry for their loss," he said.
Horne's shipmate suffered minor injuries and was treated and then released on Sunday. He was not identified.
Using a helicopter and a 45-foot boat stationed in Los Angeles, the Coast Guard later found the panga and stopped it.
Two men were detained. The Coast Guard declined to identify them or say whether drugs were found aboard the boat.
Horne arrived in Southern California last summer after serving for two years as an executive petty officer in Emerald Isle, N.C., the Los Angeles Times reports.
There, he received a Coast Guard Commendation Medal for his leadership in 63 search-and-rescue cases, in which 38 lives were saved.
Horne leaves behind a wife and a young child. According to neighbors in Redondo Beach, Horne's wife is pregnant with the couple's second child.
U.S. Homeland Security Secretary Janet Napolitano released the following statement:
"I am deeply saddened to learn of the death of U.S. Coast Guard Boatswains Mate Chief Terrell Horne during a counter-drug operation yesterday morning near Santa Cruz Island, California."
"BMC Horne and his fellow crew members of the USCG Cutter Halibut were engaged in an at-sea interdiction when they came under threat by a small vessel that rammed their small boat.
"This tragedy reminds us of the dangers our men and women in uniform face every day, and the great risks they willingly take, as they protect our nation.
"Our thoughts and prayers are with the family of BMC Horne and all of our Coast Guard personnel at this difficult time."