This is an archived article and the information in the article may be outdated. Please look at the time stamp on the story to see when it was last updated.
A man attempting to kayak from California to Hawaii was rescued on Tuesday following an equipment malfunction 11 days into his 2,400 mile journey, according to a news release from the U.S. Coast Guard.
The Coast Guard Sector Los Angeles-Long Beach Command Center responded after receiving a report of a kayaker stranded about 60 miles southwest of Point Conception, a news release stated
A friend of the 57-year-old man told the Coast Guard that the kayaker had left Monterey on May 30 and had planned to go to Hawaii, according to the release.
But about a week into the voyage, a solar panel that charged the man's electronics — assisting him with the trip — failed, causing him to turn back to California, the Coast Guard said.
The man, whose identity has not been released, subsequently became disoriented and sent out a distress call on June 10.
Southern California Coast Guard rescue crews were then dispatched by air and sea to find him.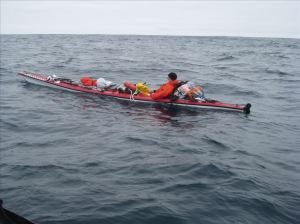 "Air Station Los Angeles launched a MH-65 helicopter to locate the kayaker while the Cutter Aspen was sent to the search area," the release said. "The helicopter crew spotted the man and directed the cutter crew to his location."
The kayaker had no injuries and was reported to be in good health following his rescue, according to the Coast Guard.
"A voyage from California to Hawaii is a long and treacherous journey for any vessel and exponentially more dangerous for a kayaker," Coast Guard Petty Officer 2nd Class Timothy Hall said in the release.
"His preparedness allowed him to call for help but he is very lucky to be alive," Hall said.