This is an archived article and the information in the article may be outdated. Please look at the time stamp on the story to see when it was last updated.
Five homes were destroyed and hundreds were evacuated in Glendora and surrounding cities as the Colby Fire burned in the Angeles National Forest Thursday.
The blaze, which started about 6 a.m. in the foothills of the San Gabriel Mountains, prompted mandatory evacuations in Azusa, Glendora.
Residents of Bradbury and Duarte were urged to prepare for possible evacuation, but were not forced to leave their homes.
Several schools were closed, as were multiple roadways. A fire command center was set up at Goddard Middle School.
Link: Glendora Unified School Information
Authorities were patrolling areas with vacated homes.
Some residents said the pre-dawn blaze terrified them. One recalled trying to put out fire in neighbor's tree when the flames got too intense.
"We got hit by hundreds of embers, and that's when we realized we were too close," said a resident who gave his name as Dave. "We couldn't help anymore and we needed to get out of there."
Another Glendoran said she was struck by a palm frond that fell from a burning tree while she was watering down a neighbor's property.
"The embers started falling, and then all of a sudden I felt hot on my back," said the woman, who gave her name as Kelly.
Her shirt was singed by the branch, and Kelly suffered first-degree burns. She said she was fine.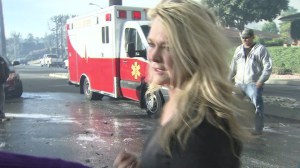 Full coverage: Colby Fire
No one was in Rene Lopez's home as it was destroyed, he said. He spoke to KTLA by phone as flames consumed the home, saying he had just bought the three-bedroom house about a year ago.
"It's really sad … this was my dream home," Lopez said. "Unfortunately, we have to start over again."
An apartment and garage at the historic Singer Mansion were damaged, authorities said.
"This morning at about 6 o'clock, it looked pretty terrible out there," Glendora Mayor Joe Santoro said at a late-morning news conference. "It's a pretty scary situation."
The American Red Cross opened an evacuation center at Glendora High School 1600 E. Foothill Blvd., Glendora, and another shelter was opened at the American Legion Building at 159 N. Cullen Ave., Glendora.
The evacuation orders were lifted at 6 p.m. for residents of Glendora, while Azusa police warned that areas of that city remained under a mandatory evacuation order.
In Azusa, residents were able to shelter at Memorial Park — at 320 N. Orange Ave., Azusa — and bring their pets, according to Los Angeles County officials.
Bradbury and Duarte evacuees were told to go to the Duarte Community Center at 1600 Huntington Drive. If needed, a secondary evacuation center was set to be opened at Duarte High School at 1565 Central Ave., according to the Temple Sheriff's Station.
Horses can be taken to Gate 12 at the Pomona Fairplex, 1101 W. McKinley Ave., Pomona. Small animals may be taken to Goddard Middle School, 859 E. Sierra Madre Ave. in Glendora, according to the Glendora Police Department.
The Pasadena Humane Society, at 361 S. Raymond Ave. in Pasadena, was also taking small pets.
The Los Angeles County Sheriff's Department provided the following update at 5 p.m.:
The Colby Fire has burned approximately 1,709 acres and is at 30 percent containment at this time. The Los Angeles County Emergency Operations Center (CEOC) is now activated at Level 2. 3,700 people were evacuated, and 1,600 have been allowed to return back to their homes. The fire destroyed five homes, and 17 structures were damaged. The following is information about mandatory evacuations, school closures, shelter locations, and road closures:
SHELTERS (OPEN)
American Legion Hall (159 N. Cullen Ave., Glendora, CA 91741) – City of Glendora
Glendora High School (1600 E. Foothill Blvd., Glendora, CA 91741) – American Red Cross
Duarte Community Center (1600 Huntington Drive, Duarte, CA 91010) – City of Duarte
ANIMAL SHELTERS
 Memorial Park (320 N. Orange Ave., Azusa, CA 91702)
Pasadena Humane Society ASPCA (361 S. Raymond Ave., Pasadena, CA 91107)
Inland Valley Humane Society (500 Humane Way, Pomona, CA 91766)
EVACUATIONS (Mandatory issued by Sheriff's Department)
North of Sierra Madre Blvd., West of Glendora Mountain Rd. & East of Highway 39
ROAD CLOSURES ("Hard" – Only first responder vehicles are allowed in the areas)
North of Sierra Madre Blvd. between Lorraine and Highway 39
SCHOOL CLOSURES for 1-16-14 (Glendora Unified School District)
Cullen Elementary School, 440 N. Live Oak Ave., Glendora, CA 91741
La Fetra Elementary School, 547 W. Bennett Ave., Glendora, CA 9174
Sellers Elementary School, 500 N. Lorraine Ave., Glendora, CA 91741
Goddard Middle School, 859 E. Sierra Madre Ave., Glendora, CA 91741
Sanburg Middle School, 819 W. Bennett Ave., Glendora, CA 91741
PUBLIC SAFETY MESSAGE IN REGARDS TO WILD ANIMALS
The Los Angeles County Sheriff's Department wants to remind residents to be aware of wild animals that may be driven from their habitat due to the Colby Fire. These wild animals may be heading toward fire impacted communities.
SOUTHERN CALIFORNIA EDISON
Residents who live in the fire impacted areas that experience power outages, Southern California Edison (SCE) can call the SCE Customer Service line at 1-800-655-4555 or go to http://sce.com/outages. SCE crews are standing by to restore power once conditions allow safe access and damage assessment. Residents are advised to watch for down power lines, and if they do see down power lines, do not approach, and call 911.
SOUTHERN CALIFORNIA GAS COMPANY
Residents who have questions about natural gas in their homes and/or properties can call the Southern California Gas Company at 1-800-427-2200.
Los Angeles County residents and businesses, including persons with disabilities and others with access and functional needs, may call 211 LA County for emergency preparedness information, and other referral services. The toll-free 2-1-1 number is available 24 hours a day and seven days a week. 211 LA County services can also be accessed at http://211la.org. To register for the Specific Needs Awareness Planning program please go to https://snap.lacounty.gov. For additional disaster/emergency preparedness information, please access http://lacoa.org and/or http://espfocus.org.