This is an archived article and the information in the article may be outdated. Please look at the time stamp on the story to see when it was last updated.
A cold storm system moving through Southern California is bringing more rain to the region Thursday and is expected to result in low snow levels, a threat of thunderstorms and a chance of mudslides in the recent burn areas.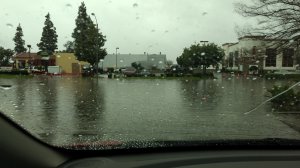 Widespread rain began falling overnight and is expected to continue throughout the day before tapering off early Friday, according to the National Weather Service.
By Thursday afternoon, a 20-year-old rainfall record was broken at Long Beach Airport, which saw 1.54 inches of rain, up from 1.36 inches in 1997.
Some areas of the San Gabriel Mountains received more than 2 inches of rain, with 3.54 inches falling at Opids Cam, northwest of Mount Wilson.
A flash-flood watch is in effect for recent wildlife burn areas near Duarte and Santa Clarita through 9 p.m. Heavy rain there could trigger mud and debris flows. A flood advisory was issued through 7 p.m. for Riverside, San Bernardino and southeastern Orange counties.
The cold system is likely to drop snow levels to about 5,000 feet through Thursday, then down to 3,500 feet overnight, according to the National Weather Service. Snow showers and ice could impact the 5 Freeway through the Grapevine and Tejon Pass.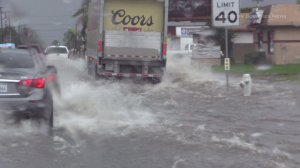 A winter storm warning is in effect through 10 p.m. for the San Bernardino Mountains, eastern San Gabriel Mountains and ranges in Riverside County.
The Rim of the World School District in the San Bernardino Mountains canceled classes "in the best interest of our students and staff" due to the weather Thursday, according to an advisory issued by the district.
And in the Hollywood Hills, Laurel Canyon Boulevard remained closed after a home's concrete foundation gave way and fell down a rain-soaked hillside onto the roadway.
In Glassell Park, a large tree crushed a car when it toppled late Wednesday night as wet weather continued to saturate the area.
And several homes had flooding in Santa Ana.