This is an archived article and the information in the article may be outdated. Please look at the time stamp on the story to see when it was last updated.
STUDIO CITY, Calif. (KTLA) — Good news for those traveling between Studio City and the L.A. Basin on Friday. Coldwater Canyon is open, but only for today.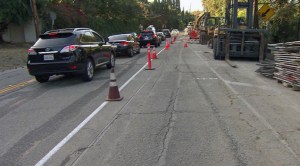 Coldwater Canyon is one of the main routes connecting the San Fernando Valley and West L.A.
But it's closed daily until April 26 between Ventura Boulevard and Mulholland Drive so crews can replace an aging water main.
Today is the exception, with construction put on hold for Good Friday. However, the closure will be back in effect on Saturday.
The hours of the Coldwater closure are Mondays through Fridays from 8:30 a.m. to 7 p.m. and Saturdays from 8:30 a.m. to 6 p.m.