This is an archived article and the information in the article may be outdated. Please look at the time stamp on the story to see when it was last updated.
Thousands of thrill seekers came out to Six Flags Magic Mountain on Saturday to bid a fond farewell to Colossus and to ride the roller coaster once more before it was set to shut down for good this weekend after 36 years.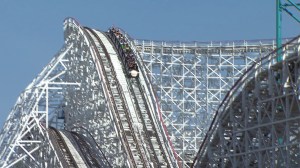 "I rode it the second week it opened, on my birthday, and now I'm riding it for the last time," said Lea Loponen, who was among those that braved long lines at the amusement park on Saturday for one last ride.
But not everyone was ready to say goodbye.
Earlier in the day, protest was held that included people who traveled from as far away as Washington, D.C. to Valencia to try and save the roller coaster from being shut down.
One gunshot victim likened the ride to therapy.
"It is therapy because you laugh a lot and it's just really fun to go on the ride," protestor Dixie Tung said. "It's so sad to see the end of the era, because it's kind of like the Empire State Building being torn down."
About 68 million people have ridden Colossus since it was first opened in 1978.
At 13 stories high, with a 100-foot drop, it was once the fastest and tallest roller coaster in the world. Now the wooden coaster doesn't even make the top ten in either category, the Los Angeles Times reported.
Colossus should be considered a historic landmark and engineering marvel, protestors argued.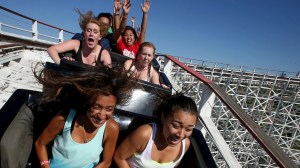 The ride contained 75 homes worth of lumber and was able to withstand the 6.7-magnitude Northridge earthquake in 1994, former Six Flags employee Don Patti said.
"That's because of great design and great workmanship," Patti, who traveled from Washington, D.C. to protest, said.
Season pass-holders would be able to ride Colossus Sunday, but the last day for those without passes was Saturday.
New plans for the 10-acre spot where Colossus resided were scheduled to be released Aug. 28.
More Video: