This is an archived article and the information in the article may be outdated. Please look at the time stamp on the story to see when it was last updated.
Hundreds of people gathered in Anaheim on Wednesday night to protest the physical altercation between a teenage boy and an off-duty LAPD officer, during which the officer fired his weapon.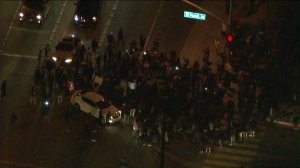 Aerial footage from Sky5 showed protestors swarming the neighborhood near Euclid Street and Palais Road. Protest organizers say the rally was held to call for charges to be filed against the officer, who the LAPD said was placed on administrative leave.
Twenty-four people were arrested during the protest on misdemeanor charges including failure to disperse, resisting arrest and battery on a peace officer, according to Anaheim Police Department Sgt. Daron Wyatt.
During the protest some people gathered around the officer's Anaheim home, breaking windows at the house and shattering car windows.The crowds also tried to get inside the officer's house.
Protestors also broke the windows of a Anaheim police car, spray-painted a garage door and broke a window at a neighboring house. Wyatt said there were reports of several windows being broken at residences and on cars in the neighborhood where the protest took place for several hours.
Cellphone video captured the physical struggle between the off-duty LAPD officer and a 13-year-old boy that led to the officer firing his weapon on Tuesday.
Police told KTLA the altercation stemmed from an ongoing issues of the teens walking across the officer's property.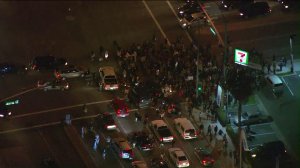 Anaheim police said the 13-year-old boy allegedly threatened to shoot the off-duty officer, an account that is disputed in the video by the boy himself and by the boy's parents.
"At the end of the day there is no justification for him to pull a gun out, and he pulled it out around a crowd of children," one female protestor told KTLA. "If he is a police officer he should know better."
No one was struck by gunfire during the altercation, and the officer admitted firing the weapon, police said.
The LAPD officer was not arrested, but the 13-year-old boy and another 15-year-old boy were taken into custody and later released.
The officer was on administrative leave as of Wednesday, according to an LAPD statement.