This is an archived article and the information in the article may be outdated. Please look at the time stamp on the story to see when it was last updated.
The pilot of a small plane was hospitalized Wednesday after the aircraft crashed near into a home's yard near Compton/Woodley Airport, authorities said.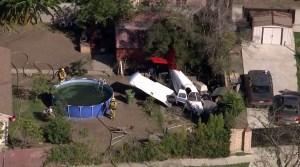 The plane crashed into a residential backyard in the 1900 block of Reeves Street about 2:21 p.m., according to Sgt. Ulysses Cruz of the Los Angeles County Sheriff's Department's Compton Station.
The plane made a "hard landing" for unknown reasons, the department said.
A statement from Compton Fire Department's interim chief said the plane experienced engine failure and the pilot, a man in his mid- to late 50s, attempted to land on Central Avenue but was unable to do so.
The pilot was the only person on board the single-engine Piper PA-28, the FAA spokesman said.
He had injuries that were not life threatening, and no one else was hurt, according to the Sheriff's Department. The plane sustained major damage to its prop, passenger compartment and right wing.
Witness Roberto Salazar said he saw the plane go down and drove toward the crash site.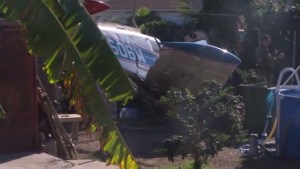 "It didn't take off for very long, because then it started doing a spin," Salazar said. "Once it took a spin, I just saw it go down."
Salazar's uncle, Manuel Lopez, said he spoke to the pilot and helped him out of the plane, which was leaking fluid. The pilot was conscious but said he was bleeding and had lost an eye, Lopez said.
"I just talked to the guy, said, 'Don't worry. … Don't worry about your eye, you're still alive, it's more important,'" Lopez said.
The pilot was hospitalized and had a deep laceration above his left eye, Compton interim fire Chief Brian Batiste said.
The fixed-wing plane, manufactured in 1963, is registered to Tomorrow's Aeronautical Museum in Compton, federal records show.
A woman who answered the phone at the museum confirmed the plane belonged to the museum and said no children were on board.
Later, an official at the school said the pilot was a student at the museum's flight school.
The aircraft's registration expired Sept. 30, according to FAA records. Registration status is not linked to a plane's airworthiness, the FAA spokesman noted.
The "plane down" report came in from South Nestor Avenue and West Reeve Street, a Compton Fire Department dispatcher told KTLA.
The address is just a couple blocks south of Compton/Woodley Airport.
The National Transportation Safety Board was investigating as well.
KTLA's Jennifer Thang and Amrah Khan contributed to this article.
More video: