This is an archived article and the information in the article may be outdated. Please look at the time stamp on the story to see when it was last updated.
A man accused of killing his girlfriend and accidentally wounding one of their children after opening fire in their Compton home pleaded not guilty on Thursday, prosecutors said.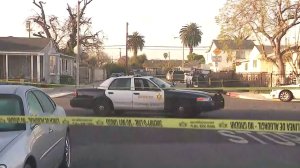 Juan Antonio Rodriguez, 29, allegedly shot the pair after an argument broke out between him and his long-term partner, 29-year-old Mayra Portillo, on April 21, the Los Angeles County District Attorney's Office said in a news release.
Rodriguez pulled out his gun after Portillo initiated a dispute, officials said, and proceeded to shoot her several times. She died at the scene.
Their 8-year-old daughter, who was in another room at the time, was also struck. She underwent surgery after being transported to the hospital in critical condition.
The couple's other two children, a boy who's around 1 year old and a girl approximately 3 years old, were found in the home unharmed. Rodriguez and Portillo had been together for nine years, investigators previously told KTLA.
Rodriguez was arrested after being interviewed at the scene as a witness.
On April 24, he was charged with murder, assault with a semiautomatic firearm and two counts of child abuse, all felonies, prosecutors said.
The complaint also alleges that Rodriguez intentionally shot Portillo.
The 29-year old is expected to appear for a preliminary hearing on June 14 in the Compton branch of L.A. County Superior Court, officials said.
He was being held at the Twin Towers Correctional Facility in Chinatown on $3.28 million bail, inmate records show.
Rodriguez could face a maximum sentence of life in state prison if convicted as charged, according to prosecutors.
The L.A. County Sheriff's Department is investigating the domestic violence case.