This is an archived article and the information in the article may be outdated. Please look at the time stamp on the story to see when it was last updated.
A Compton man who stabbed his girlfriend while she lay on a Long Beach hospital bed was convicted of the crime Wednesday after entering a no contest plea.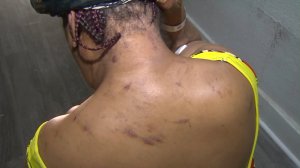 Lorenzo Darnell Moss Jr., 30, pleaded no contest to a felony count of injuring a girlfriend, the Los Angeles County District Attorney's Office announced.
He is due for arraignment in Long Beach court Oct. 16, when is expected to be sentenced to 17 years in state prison, the DA's office said.
The victim, who recounted her ordeal to KTLA earlier this year, said she had been admitted to St. Mary Medical Center for stomach ulcers. Moss came to visit her and she told him she wanted to break up, she said.
He returned hours later. Traci Mattox said she woke up in the early morning hours of March 28 and Moss was at her bedside.
He began stabbing her and struck her 13 times, she told KTLA several days later.
She said she was able to fight him off; he was arrested a short distance from the hospital. A trail of blood led police to Moss, the DA's office said.
The prosecutor said Moss punched his girlfriend and stabbed her on the arms, hands and neck. Moss also admitted that he used a knife and that he had a previous conviction for second-degree robbery in 2009.
The DA's office did not identify the victim.