This is an archived article and the information in the article may be outdated. Please look at the time stamp on the story to see when it was last updated.
Hundreds of passengers were temporarily stranded on a cruise ship Thursday after it docked at the Port of Los Angeles, in a delay that officials said was caused by a computer glitch.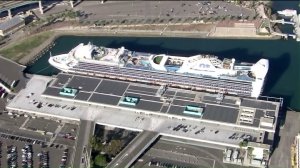 The Star Princess, operated by Princess Cruises, arrived in San Pedro from Vancouver, Canada. Passengers began disembarking shortly before 8 a.m. when U.S. Customs and Border Protection computers failed, said Karen Candy, a spokeswoman for the cruise line.
Those stuck on board the ship were able to use its amenities while they waited to be processed, Candy said.
Linda Valenzuela, one of the affected passengers, described the cruise as "wonderful" -- except for its dubious ending.
"It was just this morning that was the hardest part," she said in an interview on the dock. "We were just sitting and waiting and trying to get off the boat, since like 7 this morning."
A spokesman for the customs agency, Jaime Ruiz, confirmed that the snafu was caused by a computer glitch and not a cyber attack.
Experts were summoned to reboot the computers, which were shut down for about two hours, Ruiz said, adding that passengers were processed manually during that time.
Thirty percent of the ship's 2,600 travelers were delayed by the incident, according to U.S. Customs and Border Protection.