This is an archived article and the information in the article may be outdated. Please look at the time stamp on the story to see when it was last updated.
A GoFundMe was created to help cover medical expenses for a teenager who was attacked by a shark at a North County beach, according to KTLA sister station KSWB in San Diego.
Keane Hayes was attacked by a shark at Beacon's Beach in Encinitas Saturday, his family confirmed.
His condition was updated from critical to serious Sunday, said health officials.
The Hayes family wishes to share with the San Diego community that Keane is expected to make a full recovery and are grateful for the support they have received so far.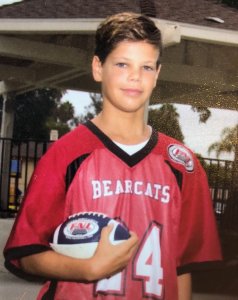 They also wished to thank the medical staff at Rady Children's Hospital where Keane is recovering.
Haynes was lobster diving with his church youth group at Beacon's Beach Saturday morning.
Chad Hammel, a kayaker who was was also lobster diving was instrumental in rescuing Haynes.
Hammel said his group had been out diving for about a half hour that morning when they heard screaming. At first he thought it was the excited yell of a fellow lobster diver. But then, "I realized that he was yelling, 'I got bit! I got bit!'" Hammel said.
Hammel and two other men helped paddle Haynes to shore.
California Fish and Game, the San Diego County Sheriff's Department, the city of Solana Beach and the city of Carlsbad were working with Dr. Chris Lowe from California State University, Long Beach, to determine the type of shark that caused the injury.
Witnesses told KSWB that the shark was approximately 11-feet long.
The Hayes family continues to ask for privacy at this time.
However, they wanted to share a GoFundMe page with the community.