This is an archived article and the information in the article may be outdated. Please look at the time stamp on the story to see when it was last updated.
For years, residents across Los Angeles County have complained about noise from low-flying helicopters, some of them carrying sightseers, paparazzi and even real estate agents. But new legislation, tucked into the massive federal spending bill approved by Congress last week, could offer relief.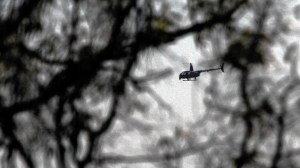 The legislation requires the Federal Aviation Administration, within a year, to begin writing flight regulations to reduce the noise unless it can show that voluntary efforts are working.
The anti-noise measure, which applies only to the Los Angeles area, was included in a $1-trillion bill that funds federal agencies and programs through Sept. 30 and is designed to prevent another government shutdown. President Obama signed it into law Friday.
The FAA already has been working with neighborhood groups, anti-noise coalitions and helicopter pilots to come up with voluntary measures to reduce the number of annoying flights. A status report on the effort is due out soon.
Click here to read the full story on LATimes.com.