This is an archived article and the information in the article may be outdated. Please look at the time stamp on the story to see when it was last updated.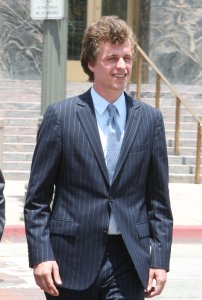 Conrad Hilton, the younger brother of socialite Paris Hilton, was arrested in Los Angeles early Saturday morning on suspicion of violating a restraining order, authorities said.
LAPD Officer Jenny Houser said Hilton, 23, was arrested after police were called to a home in the 2300 block of Jupiter Drive in the Hollywood Hills West at 4:50 a.m.
He was still being processed around 10 a.m., Houser said. No other details were immediately available.
Hilton, the namesake great-grandson of the late hotel magnate, has a lengthy history of run-ins with authorities. Last June, he was arrested on the same block on Jupiter Drive on suspicion of violating a restraining order obtained by his ex-girlfriend. Officers found him inside his ex-girlfriend's home.
Read the full story on LATimes.com.