This is an archived article and the information in the article may be outdated. Please look at the time stamp on the story to see when it was last updated.
A small yellow pipe protrudes from the dirt on a massive construction site in Inglewood, where billionaire owner Stan Kroenke envisions the new home of his relocation-minded St. Louis Rams.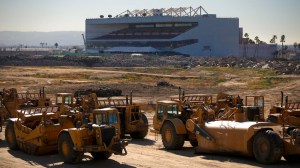 The pipe — dwarfed by heavy machinery and nearby mountains of crushed concrete — marks where the 50-yard line would be at the futuristic $1.86-billion venue.
In response to requests by The Times, the project's developers agreed to give the first tour of the nearly 300-acre site since the proposal's announcement in January. The Hollywood Park site, located about four miles east of Los Angeles International Airport, is almost three times the size of Vatican City.
"We said we wanted to be in position to start building in a year," said Chris Meany, development manager for the Hollywood Park Land Co. "And as you can see, we've done it. We are ahead of where we said we'd be."
Click here to read the full story on LATimes.com.