This is an archived article and the information in the article may be outdated. Please look at the time stamp on the story to see when it was last updated.
More residents were being allowed back in their homes Friday as firefighters made progress against the Woolsey Fire, which was torched an area the size of Denver and more than 700 structures across Ventura and Los Angeles counties.
The destructive blaze, which has also claimed the lives of at least three individuals, was 78 percent contained after failing to spread for a second straight day, Cal Fire officials said in an evening update.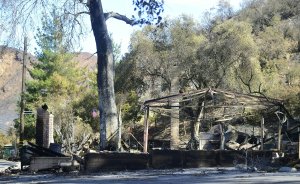 But the number of homes and other buildings lost rose — up to an estimated 713 from 616 earlier in the day — and another 201 structures were damaged.
Full containment on the nearly 154-square mile blaze is expected on Nov. 19.
Calming winds have allowed firefighters to gain control of the blaze. Cooler temperatures are expected to bring more humidity to the area, creating better conditions for the continuing fire fight.
As a result of the improving conditions, evacuation orders were being lifted in the following areas:
Los Angeles County
Malibu Civic Center area, from the ocean (south), Malibu city limit (north), east of corral Canyon Road (west) and Serra Road (east)
Topanga area from Pacific Coast Highway to Mulholland Drive
South of the 101 Freeway
East of Malibu Canyon Road
West of the Los Angeles City limit
Some unincorporated areas of Agoura in the Triunfo Canyon/Hidden Highland/Lobo Canyon areas including Kanan Road to the east, Sherwood Drive to the west, Agoura Hills city limits to the north and Hidden Highland to the south
Rancho Sierra Vista in the Santa Monica Mountains National Recreation Area
Ventura County
Home accessed via Deer Creek Road, including Yerba Buena Road, although some roads in the area will remain closed due to Southern California Edison's ongoing work on damaged power lines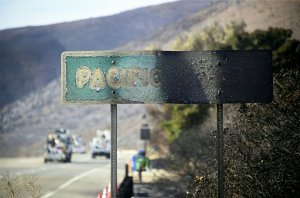 Sheriff's officials have erected checkpoints in repopulation areas and will require residents to show proper identification before being allowed back in.
The following roads remain closed:
southbound on Las Virgenes Road at Mulholland Highway, preventing traffic between that point and the Malibu City limit
Residents of the Piuma Canyon area will be required to access their homes via Cold Canyon Road or the eastern entrance to Piuma Canyon
Road access will not be available via Malibu Canyon Road
Vehicles will not be able to exit Piuma Road westbound to Malibu Canyon Road
Access to areas via Kanan Road remains closed. Residents returning to their homes must enter through the west entrance located at Sherwood Drive, east of Kings Place
A fire assistance center at the Grant R. Brimhall Library will open at 9 a.m. Friday and will remain open through Tuesday. The one-stop center at 1401 East Janns Road will offer information about public assistance and other services.
The evacuation center at Taft Charter High School in Woodland Hills, meanwhile, has closed. Residents were being re-sheltered in a separate facility at Pierce College, also in Woodland Hills, and another shelter at Palisades Charter High School was also in operation.
Two disaster assistance centers will open on Saturday, one at the Conrad L. Hilton Foundation at 30440 Agoura Road in Agoura Hills, and the other at the Malibu Courthouse, 23525 Civic Center Way in Malibu.
L.A. County has set up a website that allows those impacted by the fire to report property damage, find alternate housing and
Residents and business owners can also begin applying for federal disaster aid online at www.DisasterAssistance.gov or by calling 800-621-3362 or 800-462-7585.
The nearby Hill Fire, which began the same day as the Woolsey Fire in the Santa Rosa Valley of Ventura County, is now 100 percent contained at 4,531 acres.