This is an archived article and the information in the article may be outdated. Please look at the time stamp on the story to see when it was last updated.
A convicted sex offender who led police on an RV pursuit across Los Angeles and Kern counties with his two young children inside last week faces kidnapping, child abuse and other charges, the Los Angeles County District Attorney's Office announced Monday.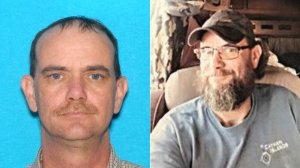 Stephen Houk, 46, was arrested Thursday, two days after the wild pursuit came to an end in a Bakersfield almond orchard.
On May 1, Houk allegedly head-butted his girlfriend, pointed a loaded gun at her and threatened to kill her. He eventually took off in the RV with their 3-year-old and 11-month-old children from where the RV was parked in Malibu.
The children were rescued after the hours-long pursuit, but Houk got away.
Houk continued to evade police by shaving his beard and sleeping at a homeless shelter before getting on a train he thought was bound for Arizona, according to the Los Angeles County Sheriff's Department. He was finally arrested when the train stopped in Barstow.
Authorities said Houk, who was convicted of sodomy in Oregon in 2002, had not met with his parole officer in two years. He allegedly eluded police by driving with his family through Arizona and California, sheriff's officials said.
He was charged with two counts each of kidnapping, child abuse, injuring a spouse and one count each of assault with a firearm, criminal threats, fleeing police, possession of a firearm by a felon and being a fugitive from justice.
Houk was scheduled to appear in court Monday, but the arraignment was postponed to May 30. His bail was set at $1 million.