This is an archived article and the information in the article may be outdated. Please look at the time stamp on the story to see when it was last updated.
Authorities asked for help Tuesday in locating a convicted sex offender accused of forcing a Highland woman to perform oral sex on him after he lured her into a shed and threatened her with a knife.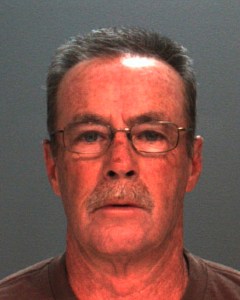 The victim hired Gerard Finn, 57, of San Bernardino, to do odd jobs around her home, and knew Finn from a local rehabilitation center for convicted felons where the two worked together, according to a news release from the San Bernardino County Sheriff's Department.
While at the woman's home on Oct. 18, Finn lured her to a shed in the yard, where he punched her several times and attempted to tie her up, the Sheriff's Department stated. The incident occurred in the 7700 block of Church Avenue.
Finn, also known as Gerry, allegedly cut the woman's clothing away with a knife and then forced her to perform oral sex on him.
As Finn was attempting to sexually assault the woman, she managed to fight back and get him off her, the Sheriff's Department stated.
Investigators say Finn then stole the keys to the victim's white four-door 2012 Nissan Versa with a California license plate of 6YUY845 and fled the area.
He is wanted on suspicion of assault with intent to commit rape, oral copulation by force, false imprisonment and grand theft auto, according to the Sheriff's Department.
Finn is a convicted sex offender who has prior convictions for rape and sexual assault.
He must register as a sex offender and is current on his registration, but has not returned to his home since the incident.
Detectives have asked the public for help in locating Finn, whose whereabouts are currently unknown.
Finn is considered to be armed and dangerous, and authorities have asked the public not to make contact with him, but to call 911 immediately if he is seen.
Anyone with information about the case can also call WeTip at 800-782-7463, or leave information on the We-Tip website at www.wetip.com.