This is an archived article and the information in the article may be outdated. Please look at the time stamp on the story to see when it was last updated.
A police officer removed a sheet covering Whitney Houston's naked corpse and remarked, "Damn, she's still looking good, huh?" according to another officer at the scene.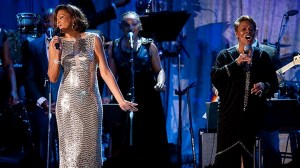 The accusation against the Beverly Hills Police detective was revealed in a labor dispute filing made last week by Brian Weir, who was the senior patrol sergeant called to Houston's hotel room after she was found dead in a bathtub on February 11, 2012.
Weir claims the Beverly Hills police chief and others retaliated against him when he complained about the alleged actions of Det. Sgt. Terry Nutall at the death scene on the fourth floor of the Beverly Hilton Hotel.
"We will be looking into the allegations made in this claim, but we were not aware of any inappropriate behavior or comments made by any officer at the scene," Beverly Hills Police spokesman Lt. Lincoln Hoshino told CNN Wednesday.
Click here to read the full story on CNN.com.