This is an archived article and the information in the article may be outdated. Please look at the time stamp on the story to see when it was last updated.
A bank robbery in downtown Corona led to a police pursuit that ended in a fatal shooting in Chino late Wednesday afternoon.
Aerial video from Sky5 showed several of police cars gathered at Pine and Euclid avenues, where a tarp appeared to have been placed over a body.
A mini-van driven by a suspected bank robber had crashed into barriers in an area where the roadway was closed for construction, aerial video showed. There were multiple bullet holes in the van's door.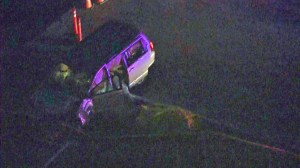 The incident began around 4 p.m. as a takeover-style robbery at Pacific Premier Bank located at 102 E. Sixth St., according to a post on the Corona Police Department's Facebook page.
The robber was identified only as a white man.
"He ordered everyone to a specific area of the bank and took money from the bank," said Sgt. Brent Nelson with the Corona Police Department.
"As the suspect exited the bank, it was reported he may have carjacked a vehicle," the Facebook post stated.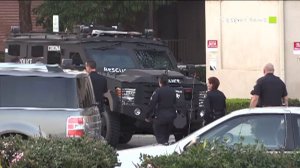 Officers were able to locate the suspect vehicle and a pursuit ensued, the post stated. It ended when the suspect vehicle crashed in an industrial park in Chino.
At that point, an officer involved shooting took place with a white male adult, who was struck by gun fire and pronounced dead at the scene, the post read.
No one inside the bank was injured.
Anyone with additional information was urged to contact the Corona Police Department at 951-736- 2330 or San Bernardino Sheriff Investigator, Gary Hart at 760-559-3431.