This is an archived article and the information in the article may be outdated. Please look at the time stamp on the story to see when it was last updated.
An 8-year-old boy who was attacked by dogs in Corona more than three weeks ago was released from the hospital Monday afternoon.
James Hernandez was riding his bicycle near his family home on Sept. 14 when two dogs chased and attacked him. He was found nearly naked and with cuts all over his body, with one ear nearly torn off, his father told the Riverside Press-Enterprise.
The two dogs, Australian shepherd-pit bull mixes, were put down, the newspaper reported. Their owner, who pulled the dogs off the boy, was cited for violating leash, licensing and rabies vaccination codes, the Press-Enterprise reported.
The boy's mother, Shelley Watson, told KTLA that James had improved enough to return home from Loma Linda University Children's Hospital on Monday. James was initially released but had to be re-admitted due to an infection, his father, Ernie Hernandez said.
"He's ready to go home," his father said as James sat outside the hospital, smiling in a wheelchair. "It's been a long road. … The recovery process has been rough from the beginning."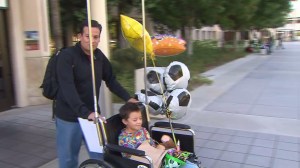 Holding several soccer ball-shaped balloons, James said the hardest part of his hospital stay was "taking out the staples." He said he felt strong.
Meanwhile, on Tuesday, the Riverside County Board of Supervisors will consider a requirement that pit bulls and pit bull mixes be sterilized.
It would only apply to unincorporated areas of Riverside County, but Watson told the Press-Enterprise the measure should include cities such as Corona.
"Something has to be done," Watson said. "It's ridiculous."
Hernandez said the family just wanted James to come home, and would think about issues involving the dogs later.