This is an archived article and the information in the article may be outdated. Please look at the time stamp on the story to see when it was last updated.
Corona Extra recently recalled bottles of beer because they may contain particles of glass.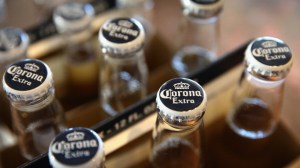 "A production error" that occurred at one of four glass plants run by a third-party manufacturer led to the recall of multiple products, coronausa.com stated.
Less than 1 percent of bottles produced by the plant were affected, according to the company.
U.S.-sold Corona Extra Beer in select six-pack, 12-pack and 18-pack packages with specific codes imprinted on the neck of the bottle were being recalled.
Consumers were urged not to drink the product if it matched the recall description and to throw it away. Full refunds would be available by calling a consumer call center at 866-204-9407.
Bottles that did not have specified recall codes; or were other Corona products, including Corona Extra cans, Corona Extra 24-pack loose bottles, Corona Extra 24-ounce bottle, Corona Extra draft beer, Corona Light bottles, Corona Light cans, Corona Light draft beer, Corona Familiar and Coronitas; were safe to drink, according to coronausa.com.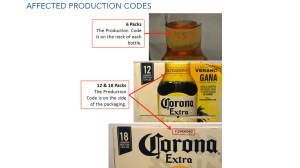 Corona beers with the following description and code imprinted on the neck of the bottle were being recalled:
6-pack codes included:
G014C059
G024C059
G064A059
G064C059
G074B059
G104A049
G104C049
G114C049
G124C049
G134C049
G144C049
G154C049
G164C049
G244C049
G254A049
G264A049
G274A049
G304C059
12-pack codes included:
G024B069
G034C069
G044C069
G054B049
G054C069
G064C049
G074B049
G084B049
G084C069
G094B049
G094B069
G104A069
G104C069
G114C069
G124C069
G164A069
G174B069
G184B069
G214C069
G244B069
G244C069
G254C069
G264C069
G274C069
G294B069
G304B069
18-pack codes included:
F294A049