This is an archived article and the information in the article may be outdated. Please look at the time stamp on the story to see when it was last updated.
A Corona high school teacher accused of having sex with five male students pleaded not guilty Thursday to various felony counts.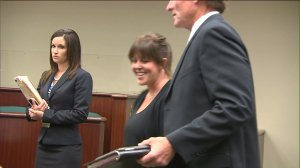 Summer Hansen, 31, was charged last month with 16 counts that accuse her of sending naked pictures of herself to teen students and having sex in her classroom, among other places.
Hansen was a special education teacher at Centennial High School in Corona.
None of her five alleged victims — all under the age of 18 — were her students, the Riverside County District Attorney's Office said in announcing the charges last month. But they were students at Centennial High.
Hansen and her defense attorney, David Cohn, say that the boys' allegations are false.
"Do teenagers lie? Sure they do. Do they say something and then really believe it and move forward? Yes," Cohn said. "These boys all know each other. If they didn't know each other and had no connection to each other, then you would start to wonder."
Appearing at Riverside Superior Court, Hansen smiled as she came into the courtroom Thursday.
The prosecutor asked the judge to order her to stay away from any children "other than her own," but Cohn got the request narrowed before it was approved by the judge.
"We don't have any objection to the teaching part of it, but there are family friends, relatives, things of that nature," her attorney said.
She allegedly had sex with students in her classroom, in a utility room at the school, in a car and at a student's home.
The charges against Hansen include unlawful sexual intercourse with a minor, unlawful oral copulation with a minor and sending harmful matter to a minor. She faces up to 13 years in state prison.
The investigation began when Corona police were notified by the Corona-Norco Unified School District of a possible inappropriate relationship between Hansen and a former student.
Hansen was then placed on administrative leave and, after her arrest, was allowed to post bail.