This is an archived article and the information in the article may be outdated. Please look at the time stamp on the story to see when it was last updated.
A man has died days after he and two other men were attacked, allegedly by the man's nephew, in a triple homicide at a home in Corona, police announced Sunday.
Ricky Lee Anderson, 51, of Corona, succumbed to his injuries and was pronounced dead about 5:40 p.m. Saturday, according a news release from the Corona Police Department. He had been hospitalized on life support since the fatal incident occurred about 6:35 p.m. Thursday in the 1000 block of Winthrop Drive.
Michael Martin, 64, of Corona, and Barry Swanson, 62, of Riverside, died at the scene.
Police arrested 22-year-old Brandon Willie Martin, of Corona, on Friday in connection with the incident.
The suspect is the nephew of Anderson and son of Michael Martin, police said. Swanson was described by investigators as a subcontractor for the home-security company ADT.
Brandon Martin fled from officers Friday after he was spotted driving a truck that was taken from the crime scene the previous evening, police said in a statement. After a brief pursuit, the suspect allegedly ran into the backyard of a home in the 800 block of Derby Street before being apprehended by a K-9 unit.
Brandon Martin was chosen by the Tampa Bay Rays as the 38th overall pick in the 2011 Major League Baseball draft, The Press Enterprise reported, citing BaseballAmerica.com.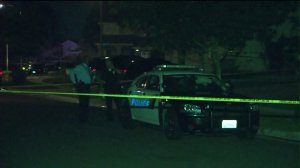 Neighbors told KTLA that Thursday's fatal incident was a domestic dispute in which a man shot his father and uncle, as well as a home security technician. However, police declined to confirm the manner in which the victims were attacked or whether a weapon was recovered.
Authorities had taken Brandon Martin to a psychiatric care facility in Riverside for a mental health evaluation on Tuesday after he made threats against his family, police Sgt. Brent Nelson said, adding that Martin was released Thursday.
According to a neighbor, Swanson was at the home to install security because family members were concerned about what might happen when Martin left the facility.
Anyone with information was asked to call Senior Detective Gottfried of the Corona Police Department at 951-817-5837.
Correction: An earlier version of this report erroneously stated that police had described the manner in which the victims were attacked. The article has been updated.