This is an archived article and the information in the article may be outdated. Please look at the time stamp on the story to see when it was last updated.
Get ready for Coronageddon, a scheduled 55-hour closure of a 6-mile portion of the 91 Freeway beginning in February.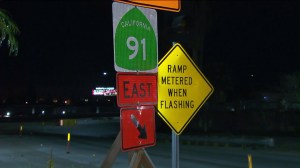 The weekend closure was scheduled  begin at 9 p.m. on Friday, Feb. 19, and continue until Monday, Feb. 22 at 4 a.m., the Riverside County Transportation Commission stated in a news advisory.
The project will involve the shut down of the eastbound and westbound sides of the 91 Freeway between State Route 71 and Interstate 15, according to the RCTC.
The closure, dubbed Coronageddon by one task force member, was planned to allow for several construction activities, including a new Maple Street bridge, the Orange County Register reported.
The Carmageddon-like 55-hour closure prompted the commission to develop a "steer clear of the 91 campaign" to warn drivers to avoid the area, the newspaper reported.
"We don't want to have people driving through Corona to get to where they are going," John Standiford, deputy executive director for the RCTC, told the register.