This is an archived article and the information in the article may be outdated. Please look at the time stamp on the story to see when it was last updated.
A homeowner in Buena Park found human remains over the weekend while digging a hole in his backyard, and officials say there is no evidence of criminal activity.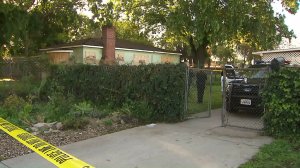 Police received a call from the home in the 8200 block of Commonwealth Avenue to report the discovery about 5:45 p.m. Sunday, Buena Park Police Department Sgt. Mike Lovchik said.
On Monday coroner's investigators responded to the scene and confirmed the human remains were of Native American descent, and had been at the location for a considerable amount of time, police said in a news release.
The remains were possibly part of a human skull, according to Lovchik, who said the coroner's office collected the bones for testing.
The homeowner found the remains just a few feet from the surface while digging in his back yard and notified law enforcement, according to Buena Park police.
No identification or cause of death was released.
A cadaver dog was brought to the yard Monday morning to search for any other indications of human remains on the lot, but no further discoveries were made, Lovechik said.
Lovchik said the homeowner cooperated with police during the investigation, which is now closed.
Police said the final disposition of the human remains will be made with the Native American Heritage Commission, in order to respect the considerations of the Native American culture.