This is an archived article and the information in the article may be outdated. Please look at the time stamp on the story to see when it was last updated.
A 17-year-old boy who was fatally struck by a LADWP truck while riding a bicycle near his high school in Granada Hills was remembered Thursday night at a candlelight vigil.
Philomene Ragni, of Granada Hills, was killed during a collision around 3:15 p.m. Wednesday at San Fernando Mission Boulevard and Woodley Avenue (map), the Los Angeles County Department of Coroner stated.
The incident occurred a block away from John F. Kennedy High School, where Ragni was a student.
It was not clear what led to the collision, but Ragni was riding southbound on Woodley when he was hit by the Los Angeles Department of Water and Power truck, Los Angeles Police Department Valley Traffic Division Capt. John McMahon said at the scene Wednesday.
The truck driver stayed at the scene, cooperated with authorities and passed a field sobriety test, McMahon said.
"There is no reason to believe this is anything more than a tragedy at this point," McMahon said Wednesday. "This is a real tragedy."
Friends told KTLA Ragni's mother had recently passed away, and he died on his little brother's birthday.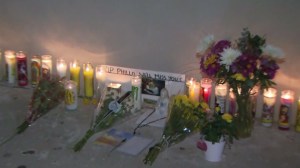 "This is probably the worst thing that could have ever happened on somebody's birthday," friend Jorge Ruiz said. "To have that burden on top of everything, and add onto it is something that I can't imagine going through."
Ruiz said his prayers were with Ragni's family.
"My prayers and wishes go out to his family and his relatives," he said. "It's devastating and we're going to do our best to keep our heads held high."
Another friend, who only provided his first name, said Ragni's friends were in shock.
"I can't think about him being gone,"Chris said. "Ever since middle school, he's always been happy, when he would walk into class, he wouldn't be looking down, he always had a smile on his face."
Flowers, about two dozen candles and a photo with the caption "RIP Phillo we'll miss you," appeared at a makeshift memorial near the campus early Thursday morning.
Grief counselors were expected to be at the school throughout the day, principal Dr. Richard Chavez said.
DWP issued a brief statement Wednesday, confirming a vehicle driven by an electrical construction worker was involved in the collision.
"LADWP extends heartfelt sympathies to the family and loved ones of the deceased," the statement read.
The driver was not identified.
Correction: An earlier version of this story included a photograph that was incorrectly described as showing Philomene Ragni. That image has been removed from the story. 
More video: