This is an archived article and the information in the article may be outdated. Please look at the time stamp on the story to see when it was last updated.
A North Hills man was charged with murder Wednesday in the death of his female roommate, whose body was found in the closet of an apartment that they shared.
Mario Villalobos, 58, was arrested Monday after police received a tip that someone might be trying to dispose of a body, according to the Los Angeles County District Attorney's Office.
The victim, Cassandra Marcella Olsen-Silagyi, 48, was identified by the Los Angeles County coroner's office Wednesday. An autopsy had not yet been completed and might not occur until Friday, a coroner's official said.
Olsen-Silagyi's body was discovered in the closet of the apartment she shared with Villalobos in the 8700 block of Sepulveda Boulevard, authorities said.
Police received a tip that someone was trying to dispose of a body, and, though the caller did not specify the address, investigators were able to determine which building and which apartment the body was in, an LAPD detective said Monday.
It appeared the body had been in the closet "for a few days," a Los Angeles Police Department news release stated Tuesday.
Olsen-Silagyi and Villalobos had been sharing the apartment for about a month, according to the DA's office. He was in the process of evicting the victim, leading to multiple arguments that ultimately resulted in her death, police said.
Villalobos was being held on $1 million bail. He faces 25 years to life in state prison if convicted as charged. A booking photo of him has not been released.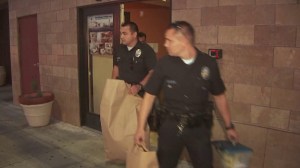 His arraignment was scheduled for San Fernando Superior Court Wednesday afternoon but was postponed to a future date.
A woman who goes by the name of "Bubbles" said Villalobos showed her the victim's body.
The roommates were in a physical fight that led her to pepper-spray him, and he in turn strangled her to death, Bubbles said.
Police initially described the apartment as being in Panorama City; it is actually in the North Hills neighborhood.
KTLA's Steve Bien contributed to this article.